Shopping Cart $0.00 (0 Items)
Cart Summary
Close
Spotting Scope Shootout
Spotting scopes can be used for all sorts of outdoor activities from hunting to bird watching. Spotting scopes offer an easy way to view objects at distances greater than binoculars. For a run down on what you need to think about next time you're looking at spotting scopes we contacted Paul Kendall from Vortex Optics to give us an overview and some tips, here's what he had to say: Read More ...
Choosing the right spotting scope can seem confusing at first, but once you focus on your needs the choice will become clear.
What are you going to be using the spotting scope for? A high country mule deer hunter is going to have different needs than the casual weekend birder.
Why do you need a spotting scope? Spotting scopes provide more power than most binoculars. You may need a spotting scope if you're viewing objects at long distances. You'll also need a tripod or window mount to use a spotting scope effectively.
The Numbers
Spotting Scopes include numbers like 16-48x65. Just like with binoculars the first set of numbers (16-48x) identifies the magnification range. Most spotting scopes will come with a variable power eyepiece. The last number (65) will indicate the size of the objective lens in millimeters.
Things to Consider
1 - Size and Weight
Perhaps the most important consideration is size and weight. If you're planning on doing a lot of hiking, a spotting scope with a 50mm to 65mm objective lens is going to be more compact and portable than a spotting scope with an 80mm to 85mm objective lens.
If you're not planning on carrying your spotting scope for long distances consider a spotting scope with a larger objective lens for increased optical performance in lowlight and at higher power settings. Also keep in mind that a larger spotting scope is going to require a larger tripod.
2 - Power
Spotting scopes typically offer substantially more magnification than binoculars. Coupled with a solid tripod, a quality spotting scope can greatly increase your effective glassing range.
Most spotting scopes will come equipped with a variable "zoom" eyepiece that the user can fine tune to their specific magnification needs. Common powers for spotting scopes include 20-60x, 15-45x, 16x48x, 11-33x and similar.
3 - Angled vs. Straight
This is a personal preference as they are identical in optical performance. If you are undecided, here are a few things to consider.
Angled spotting scopes feature an eyepiece that is set at a 45-degree angle. This allows users of different heights to share the spotting scope without adjusting the tripod. Angled spotting scopes can also sit lower on tripods, allowing the use of lighter and more compact tripods.
Straight spotting scopes have an eyepiece that is in line with the objective lens. This natural line of sight can help when locating an object and works well on a window mount.
Here is a little video we did to explain some of these basics.
Paul Kendall Accounts Manager Vortex Optics
Sportsman's Warehouse Picks
Spotting scopes come in all shapes sizes and price ranges. Here are some picks by Sportsman's Warehouse employees under a variety of different price ranges:
Budget Level Pick - Alpen Variable Power Series
If you are looking for a budget level spotting scope that is sure to please then look no further. The Alpen Variable Power Spotting Scope is an award winning spotting scope that will perform in all weather situations being waterproof, dustproof and shock-resistant. Most Alpen spotting scopes come with a padded field carrying case to keep your investment protected. Many models also come with a portable 12" swivel-head tripod. If you're looking for a high quality spotting scope at a budget price then the Alpen Variable Power series is a great way to go.
Mid-Level Pick - Vortex Viper HD Series
The Vortex Viper HD series is our mid-level pick. The Viper HD has fantastic high density (HD) low dispersion multi-coated lenses that really make colors pop and give you a high resolution image even in low light. With features such as a sunshade, rubber grip, a dual focus wheel, an adjustable collar, picitinny mounting rail, zoom eyepiece and an adjustable eye cup the Vortex Viper HD is easy to use and adapts to your every need. To top everything off Vortex offers their VIP Warranty which is an unlimited, lifetime, fully transferable warranty so you can set your mind at ease
Premium Level Pick - Swarovski ATX/STX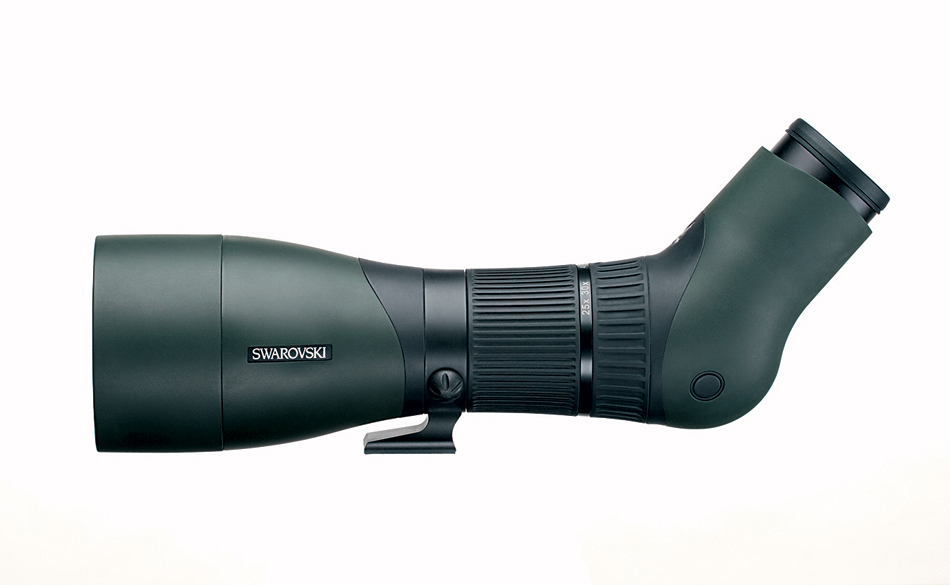 If you are looking for the very top of the line spotting scope then the Swarovski ATX/STX line is the very cream of the crop. Bodies and eyepieces are sold separately and are modular so you can adjust your scope to have an angled (ATX) or straight (STX) eyepiece. If you want the highest quality, most flexible spotting scope then the Swarovski ATX or STX will give you extreme detail at up to 30-70x magnification and up to a huge 95mm objective lens. All of this and the spotting scope weighs in at a very trim 75 ounces (4.7 pounds). This scope is truly the very best that money can buy.
Copyright © 1998 - 2018 Sportsman's Warehouse. All rights reserved.
Using this web site acknowledges your agreement to the
Terms of Use
and
Online Privacy Policy.